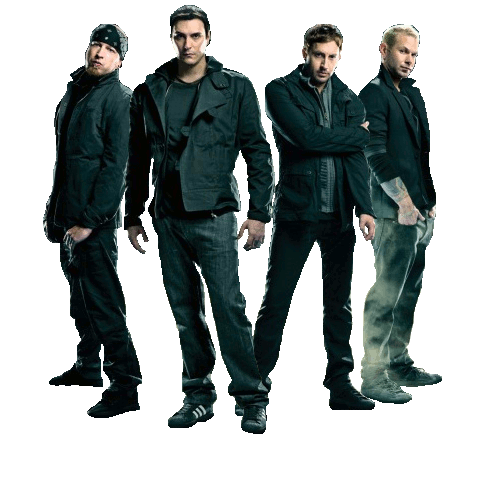 Breaking Benjamin is an American rock band from Wilkes-Barre, Pennsylvania, currently consisting of Benjamin Burnley, Aaron Fink, Mark Klepaski and Chad Szeliga. They have released four albums to date. Their music is most often classed as alternative rock or post-grunge.
Formed in 1998 by vocalist Benjamin Burnley and drummer Jeremy Hummel, Breaking Benjamin quickly garnered a strong local following in their home state of Pennsylvania. The band derived their name from an incident when Burnley was covering a Nirvana song during an open mic night at a club. He kicked the microphone stand over, breaking it. The person who owned the microphone came on stage and said, "I'd like to thank Benjamin for breaking my microphone." In 1999 the band changed its name shortly to Plan 9 then in late 2001, after various line-up changes, the band changed its name back to "Breaking Benjamin" and two friends of Burnley, Aaron Fink and Mark Klepaski, left their previous band, Lifer, and joined the ranks of Breaking Benjamin as guitarist and bassist, respectively. According to the band, the Breaking Benjamin logo is a variation of the Celtic knot, with four interlocking "B"s. The logo is tattooed on the left wrist of Ben Burnley, Aaron Fink, and Mark James Klepaski, and the right wrist of Chad Szeliga. The band is currently signed to Hollywood records and released four albums so far. They achieved their first number 1 single in 2007 with the track "Breath" off their third album Phobia.
Breaking Benjamin signed to Hollywood Records in early 2002 after the success of an independently-released, self-titled EP, which sold all 2,000 copies that were manufactured. The band then released their full-length, major-label debut, Saturate, on August 27, 2002. The album peaked at number 2 on the Billboard Top Heatseekers Chart and at 136 on the Billboard Top 200.
The album's first single, "Polyamorous", received a fair amount of radio play, although it failed to reach mainstream audiences. A video was released in three different versions for "Polyamorous": one that had all live-action footage, and one that had footage of the video game Run Like Hell. The third was a variation of the non-live action video, but instead of scenes from Run Like Hell, it has scenes of people in flirtatious acts.
The second single from Saturate was "Skin", which fared even worse than "Polyamorous". Singer Ben Burnley has been known to state his disdain for the song during live performances and has the crowd sing the words as the band plays. This is due to Hollywood Records choosing it as the main single instead of the band's choice, "Medicate".
They had planned on releasing a studio version of their cover of "Enjoy the Silence" along with "Lady Bug" on the European version of Saturate. However, the European version was never released. "Lady Bug" was eventually released on the "So Cold" EP, and on the Japanese version of We Are Not Alone.
Breaking Benjamin released their second album, We Are Not Alone, on June 29, 2004. The album featured the lead off single "So Cold", which reached number two on the United States Billboard Mainstream Rock chart. The band had two music videos made for "So Cold," one of which was a promotional video for the movie Hellboy. "So Cold" spent 37 weeks in the top 20 of the Billboard charts (as of February 3, 2005). The commercial success of "So Cold" led to We Are Not Alone debuting at number 20 on the Billboard 200 selling 48,000 copies in its first week and achieving platinum status in late 2005.
Also released as singles from the album were "Sooner or Later" and a re-recorded, full band version of "Rain", which was featured on later pressings of the album. A music video was made for "Sooner or Later" as it got a fair amount of radio play reaching number two on the Mainstream Rock Charts. The track was also featured during an episode of the TV show "Summerland" and performed live on "The Tonight Show with Jay Leno."
During a tour in support of "We Are Not Alone" Aaron Fink's father Gary Fincke, joined the band on tour, whose music collection is what originally sparked Aaron's interest in music.
In September 2004, drummer, and founding member of Breaking Benjamin, Jeremy Hummel was fired. Subsequently, on September 28, 2005, Hummel filed a federal lawsuit against the remaining members of Breaking Benjamin, as well as its management, claiming he was not paid for songs he helped write. Hummel's lawsuit asked for more than $8 million in damages. An article was released October 25, 2006, stating that Hummel does not receive any payments from the making of We Are Not Alone in which he co-authored. He was eventually replaced by current drummer Chad Szeliga.
The tracks "Rain", "Forget It" and "Follow" were all co-written by the guitarist and vocalist of The Smashing Pumpkins, Billy Corgan. Ben Burnley and Billy Corgan's collaboration took place for six days in December. Burnley admitted he was at first nervous to work with Corgan, but later felt comfortable and called the experience one of the highlights of his career.[10]
Later in 2004, the band released the So Cold EP. The EP contained live recordings of We Are Not Alone's "So Cold" (acoustic), "Breakdown", and "Away", as well as studio recordings of "Blow Me Away", and "Lady Bug", an early fan favorite of the band's.
Breaking Benjamin released Phobia on August 8, 2006, heading off the album with the single The Diary of Jane, which made it to #4 on the U.S. Modern Rock Charts.
On February 11, 2007, HDNet premiered a one-hour show of the Breaking Benjamin concert in Bethlehem, Pennsylvania at Stabler Arena. This is also the concert that was included on the Phobia re-release DVD in April 2007, advertised as "The Homecoming". The band obtained their first number 1 billboard single with "Breath". Footage of the band's live Stabler Arena performance of "Breath" comprises the song's music video. On April 17, 2007, Breaking Benjamin re-released the album Phobia. The album featured a DVD with about an hour of their Stabler Arena concert footage. They completed a co-headlining tour in the United States with Three Days Grace and had Red and Puddle of Mudd as openers. The album re-entered the Billboard 100 at number 38 on May 5, 2007 with its reissue.
On June 29, 2007, the band appeared on Jay Leno and they performed "Breath". On July 6, 2007, the band performed "Breath" again on Craig Ferguson. The band did not perform as scheduled on July 9, 2007 at the Tabernacle in Atlanta due to an illness that Ben had. Two other concerts wrapping up their tour (in Myrtle Beach, SC on July 10 and Greensboro, NC on July 11) were cancelled as well. On their website, they announced that Burnley was ill and unable to perform in Atlanta and at the two remaining shows. Rumors that the band was breaking up turned out to be false, as the band announced a 36-date fall 2007 tour with Three Days Grace, Seether, Skillet (first half) and Red (second half).
On May 21, 2009 Phobia reached RIAA Platinum status, selling over one million units in the U.S.
David Bendeth who produced the band's last two studio efforts, We Are Not Alone and Phobia, produced Breaking Benjamin's 4th studio album, Dear Agony. On their MySpace blog, Breaking Benjamin stated, "We are busy crafting the new material and have several songs ready for the Bendeth production treatment." It should also be noted that Jasen Rauch, guitarist for RED, co-wrote five of the new tracks including "I Will Not Bow" along with Burnley. On November 20, 2008 lead singer Ben Burnley was interviewed on Cage Rattle and stated that he is writing so much for the new album that it is consuming his life. He also stated that he is getting no deadlines or pressure from the label on this album so he is taking his time.
On July 14, the members of the band confirmed there are 11 songs on the new album. One of the track names is "What Lies Beneath", and on July 28, David Bendeth confirmed from a news article that Breaking Benjamin's 1st single, "I Will Not Bow" was released onto radio stations on August 17, and was released on iTunes on Sept. 1st.
On August 4, Breaking Benjamin's MySpace revealed the 4th album will be titled Dear Agony and that it will be released on September 29.
On August 11, Breaking Benjamin's hometown radio station WBSX (97.9X) in Wilkes-Barre, PA debuted "I Will Not Bow".
Due to the single being leaked to 97.9X radio in Wilkes-Barre, their first single "I Will Not Bow" began streaming on their MySpace at 8PM eastern time on August 11. A music video for the song "I Will Not Bow" premiered on their MySpace on Friday, August 21.
On September 28, the album was officially released in Australia. On September 29, the album was officially released in the United States. Dear Agony purchased from Best Buy comes with a bonus DVD that has the band's six music videos, including a previously-unreleased version of the music video for "I Will Not Bow." The version on the DVD is of the band only and does not contain any footage from the movie Surrogates, unlike the version released on the Internet.
Jasen Rauch of RED collaborated with Ben Burnley, on Breaking Benjamin's new album "Dear Agony". It is said that Jasen co-wrote 1/3 of the songs of the new album. The songs Jasen co wrote were "I Will Not Bow", "Hopeless", "Lights Out" and "Without You".